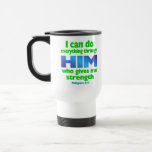 You know the verses that are put on every t-shirt and key chain and coffee mug? Sometimes I think we can gloss over the "coffee mug" verses and they become just another Christian catch phrase. So sometimes we hear "I can do all things through Christ who gives me strength" and it's just another inspiring quote worthy of a key chain.
And we miss it. We miss the power of the Word of God moving in our hearts. We miss the context in which God wanted us to understand it. We shortchange ourselves.
So you can do all things through Christ? All what things? Become a pro-football player, or get a good job, or climb a giant mountain?
Well maybe, but I'm not sure those were the things Paul had in mind when writing to the Philippians. Yes, I'm sure that God can do anything, including making me able to be a forward for the Denver Nuggets. But I think God is concerned with much bigger things.
So what is Paul really saying?
I rejoice greatly in the Lord that at last you have renewed your concern for me. Indeed, you have been concerned, but you had no opportunity to show it. I am not saying this because I am in need, for I have learned to be content whatever the circumstances. I know what it is to be in need, and I know what it is to have plenty. I have learned the secret of being content in any and every situation, whether well fed or hungry, whether living in plenty or in want. I can do everything through him who gives me strength. - Philippians 4:10-13

Paul prefaces the bold statement of strength with the lesson of contentment. Whether he has an abundance or nothing, whether free or in jail, whether hungry or full, he is content.
He has learned the secret of being content. So what is this big secret? That he is content by the strength of God.
Philippians 4:13 would be better translated "I can do all these things through Christ who strenthens me". Paul is saying that his ability to be content is only by the strength of Christ in him.
Contentment is hard for me. I tend to take my eyes of Christ and look instead on my situations. But as we remember what God has done and how He is our ultimate fulfillment, we can rest in that. We can be fully satisfied and content with Christ in us and the promise of Heaven to come.
We can be content in all situations through Christ who gives us strength.
Linking up with: